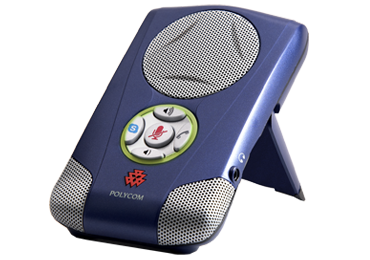 | | |
| --- | --- |
| คุณสมบัติพิเศษ | Portable, hands-free Skype calling from your PC |
Enjoy the ultimate hands-free Skype calling experience from your PC with the Polycom Communicator C100S. This device enables crystal-clear, natural conversations without echoes or feedback. Experience the freedom of not wearing your headset for hands-free Skype calls.
The Polycom Communicator C100S delivers remarkable audio quality that enables seamless voice and video communications, without compromise. Equipped with Polycom HD Voice technology, it delivers high-fidelity audio along with superior echo cancellation, noise reduction and full-duplex performance.
Integrated button controls enable you to launch voice and video applications, pick up or hang up calls without using your mouse, and adjust volume and mute.
You achieve:
High-quality audio that delivers the best possible Skype experience
Hands-free freedom and portability – Untie yourself from your headset for clear one-on-one or group Skype calls
Ease of use – Use the convenient buttons to launch Skype, pick up and hang up calls, and control volume and mute
High-fidelity wideband voice quality –The hardware supports up to 22kHz for CD-quality music or presentation audio
Two, high-quality stereo microphones – Enjoy the freedom of moving around your office or work space while on Skype calls, and make sure others on your call hear every word clearly
Built-in stereo headphone port – Plug in headphones for private conversations, or unplug to go hands-free
Ergonomic design for portability – The integrated USB cable stores inside the unit for portability and convenience
Skype certification – The Polycom Communicator C100S is the only Skype-certified speakerphone that delivers business-class, high-fidelity performance
กรอกแบบฟอร์มเพื่อขอใบเสนอราคา