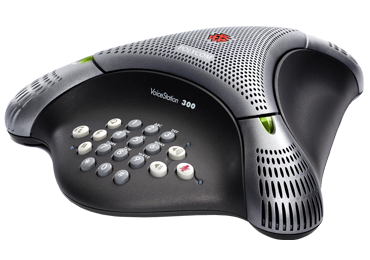 | | |
| --- | --- |
| คุณสมบัติพิเศษ | Bluetooth-enabled conferencing for offices and small meeting spaces |
The Polycom VoiceStation 500 is a small, Bluetooth-enabled conference phone ideally suited for desktops, offices, and other small rooms. With a microphone range of up to seven feet (2-meters), the VoiceStation 500 is perfect for small conferences with three to four participants.
Plus its compact industrial design fits well on a desk or small table, making it a great solution for offices. The VoiceStation 500 provides Polycom's legendary voice quality at an affordable price.
Use your Bluetooth-enabled mobile phone to connect wirelessly to the VoiceStation 500 for hands-free voice conferencing, even from locations without an analog phone line.
It can also connect to a Bluetooth-enabled computer for high-quality, hands-free conferencing over the Internet. If your mobile phone or computer is not Bluetooth-enabled, simply use the integrated 2.5mm applications port for wired connections.

The Polycom VoiceStation 500 offers:
Bluetooth connectivity – Enjoy high-quality, hands-free calling from your mobile phone or the Internet with the 2.5mm applications port...or plug into a wired connection for mobile phone and Internet calling when Bluetooth is not available
Hands-free calling – Ideal for small conferences with three to four participants in the same room
More productive calls – Great audio quality that allows simultaneous, natural, free-flowing conversation
Set up that is as easy as any standard telephone with no technical knowledge required
The option of plugging into a handset for private calls
Legendary voice quality at an affordable price
Bluetooth-enabled mobile phones connect wirelessly for hands-free voice conferencing
Connect to a Bluetooth-enabled computer for hands-free conferencing over Internet calling services
Any non-Bluetooth-enabled computer or mobile phone can use the integrated 2.5mm applications port for wired connections
A powerful, digitally-tuned custom speaker and three sensitive microphones provide uniform, 360-degree coverage from up to 7 feet (2-meters) away
Enjoy clearer calls with no distracting noise from mobile phones or other wireless devices
กรอกแบบฟอร์มเพื่อขอใบเสนอราคา